Scanning Technique
Position the patient supine with the arm to be blocked resting comfortably on the patient's side.
After skin and transducer preparation, a linear 7 MHz transducer is applied immediately medial to the coracoid process (COR) underneath the clavicle in a parasagittal plane to obtain the best possible transverse view of the axillary vessels and cords.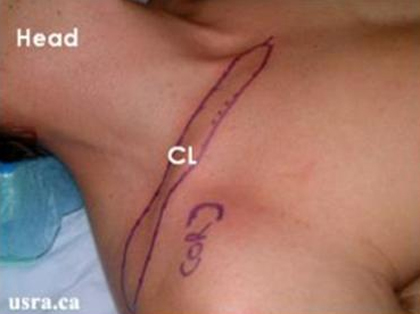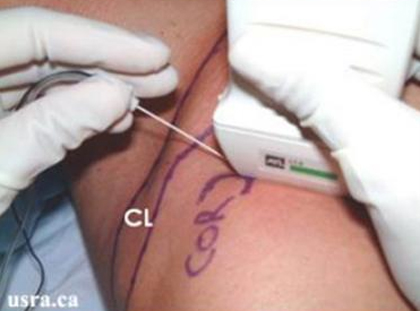 Transducer over right infraclavicular coracoid region
Optimize machine imaging capability by selecting the appropriate depth of field (usually within 3-5 cm), focus range and gain.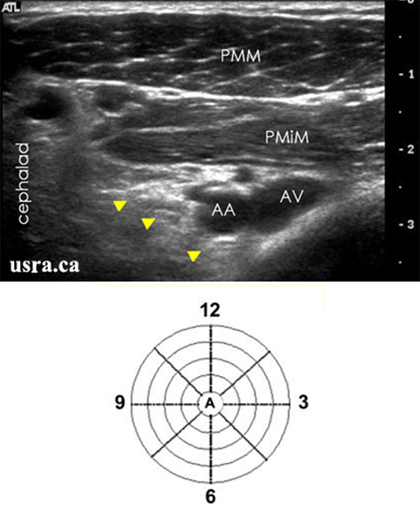 Visualize the cords of the brachial plexus and axillary vessels in short axis (transverse view). Nerves in the infraclavicular region often appear hyperechoic with the lateral cord most commonly cephalad to the axillary artery (9-12 o'clock position) and the posterior cord posterior to the artery (6-9 o'clock). When visible, the medial cord is caudad to the artery (3-6 o'clock). Both the axillary artery and vein are anechoic; the artery is pulsatile and the vein is compressible. Overlying the neurovascular structures are the pectoralis major and minor muscles.