Scanning Technique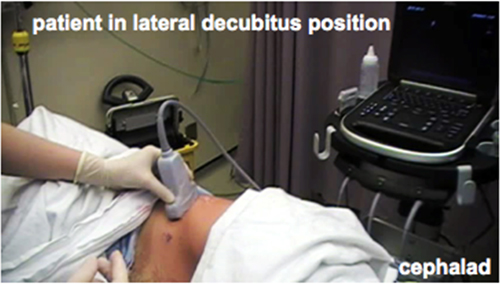 Position the patient lateral decubitus and facing the operator with the operative side uppermost. The machine is placed on the opposite side of the bed.
It is also possible to perform the block with the patient in a supine position.
Expose the trunk in the low thoracic and abdominal regions over the axillary line.
After skin and transducer preparation, place a curved transducer (2-5 MHz) over the lateral torso just above the iliac crest in the mid axillary line. A low-frequency curved transducer is generappy preferred for its wider field of view and better penetration. If the patient is very slim, a high frequency linear transducer (10-12 MHz) may be used instead.
Optimize machine imaging capability; select appropriate depth of field (usually within 5-6 cm), focus range and gain.